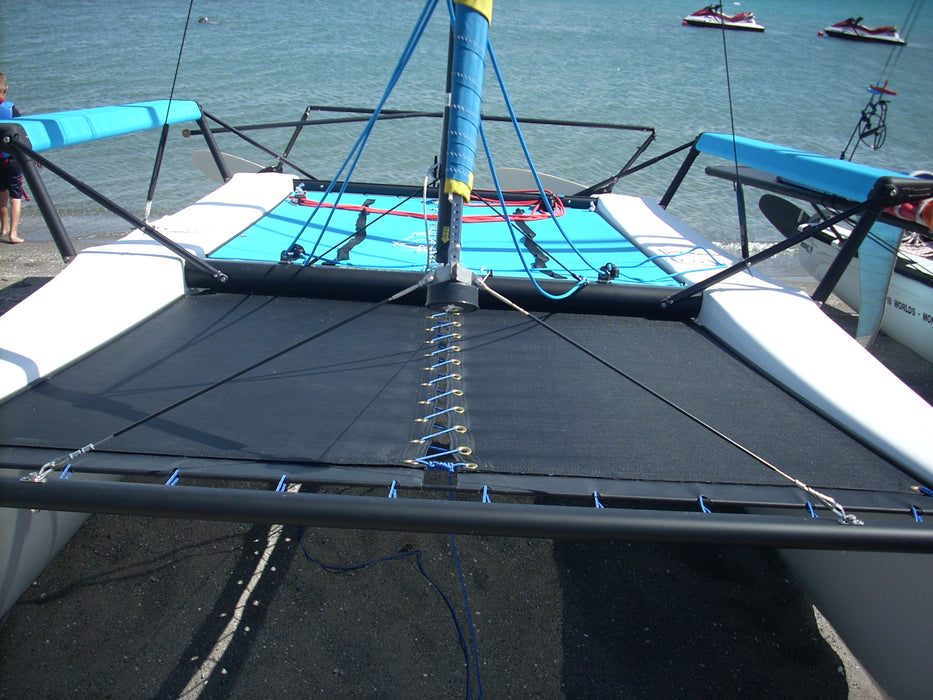 2003 and Newer Hobie getaway front trampoline Black Mesh
FOR 2003 and Newer Boats and some 2002 
Note: Up until 2002, the Getaway was produced with an approximately 3/8 inch diameter side track (Pre 2002-Large Track). From 2003 on, the side track size was reduced to between 1/4 inch and 5/16 inch (Post 2002-Small Track).  Boats built in 2002 may have either track size.  Please let us know what size track is on your boat.  The best way to do this is to try and fit a 3/8 inch drill bit in the side track, if it fits, you have the older, larger track, if not, you have the newer, smaller track.

This Design allows for a tight front trampoline over the original one piece design.
Lacing up down the center of the front of the trampoline eliminates the sag, and allows increased longevity of the OEM supplied trampoline.
Features include:

Trampoline features include:
Stainless steel grommets 
Polypropylene UV resistant mesh basket weave and Reinforced front tube made from stout 22 ounce Vinyl Coated Polyester
Sewn with Goretex Liftime Tenara Thread