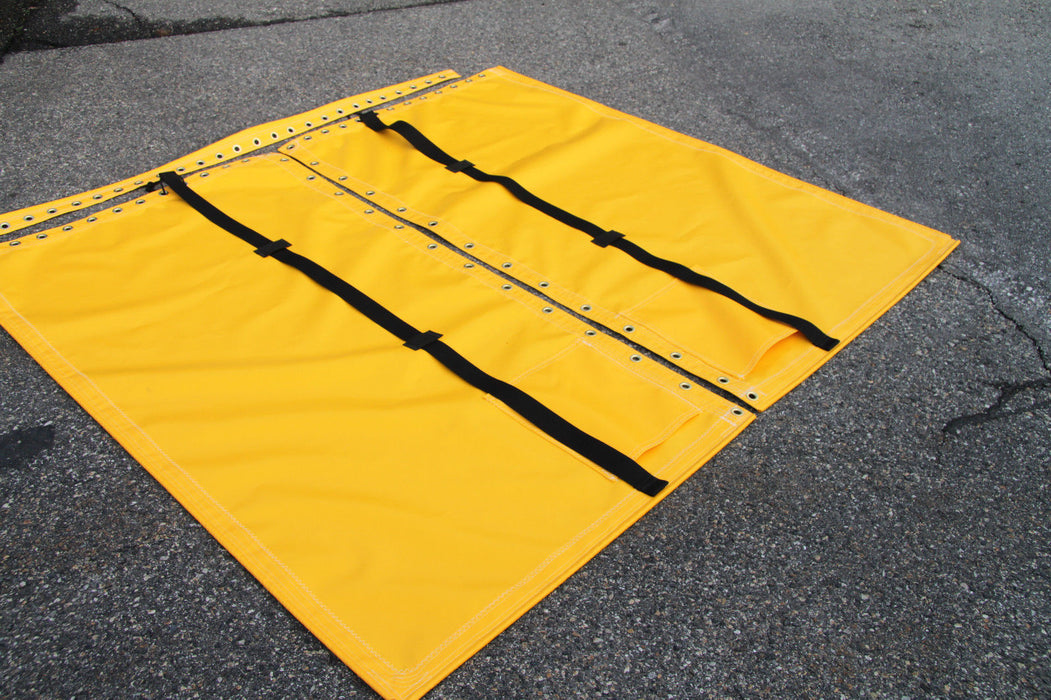 Hobie 14 Vinyl trampoline Turbo and Non Turbo
Available with or without the turbo Grommets 
Might as well have the Turbo Jib Grommets installed just in case a Jib Kit is in your future!
The best-selling aftermarket tramp for your Hobie® 16. Made from 22 OZ vinyl . Manufactured in the USA with the highest quality materials and manufacturing techniques. Heavy weight webbing, #4 Grommets, Tenara lifetime thread as standard and large pocket(s) are just some of the features. Sew around the outer perimeter with a strait stitch. Followed by 2 rows of 4 point zig zags, which is strength equivalent to 8 rows of straight stitching. The 4 point zig zags combined with the lifetime goretex tenara thread creates a trampoline that is going to go the distance while creating less needle holes in your trampoline.  Nerd alert! Ben (Mechanical Engineer) and Chris (Physicist) used mathematical modeling and real world tests to design our trampolines instead of throwing rows and rows of stitches and hopeing for the best. Just like the hobie factory each grommet is mechanically pounded into place with perfection using a grommet machine that costs more than a Hobie 16! We know that vinyl trampolines are harder to get tight that the mesh ones so we've added more grommets than other manufacturers. Each grommet is placed at  4 inch centers. Each pocket is sewn flared to accommodate extra gear that you may need on the water. Each pocket also has integrated drain holes so swamp thing doesn't grow inside your pocket. Hiking straps are adjustable and are attached on the trampoline at 4 locations allowing versatility for two person crews or 3 on the boat. The bolt rope sewn into the trampoline  is custom made for us slightly larger than stock. Eliminating tramp pull out of the the side rail on even the most worn out 16. The bolt rope is also 100 % rot proof and won't expand or shrink overtime.
36 month pro rated warranty on all vinyl trampolines.  
Available in an assortment of colors