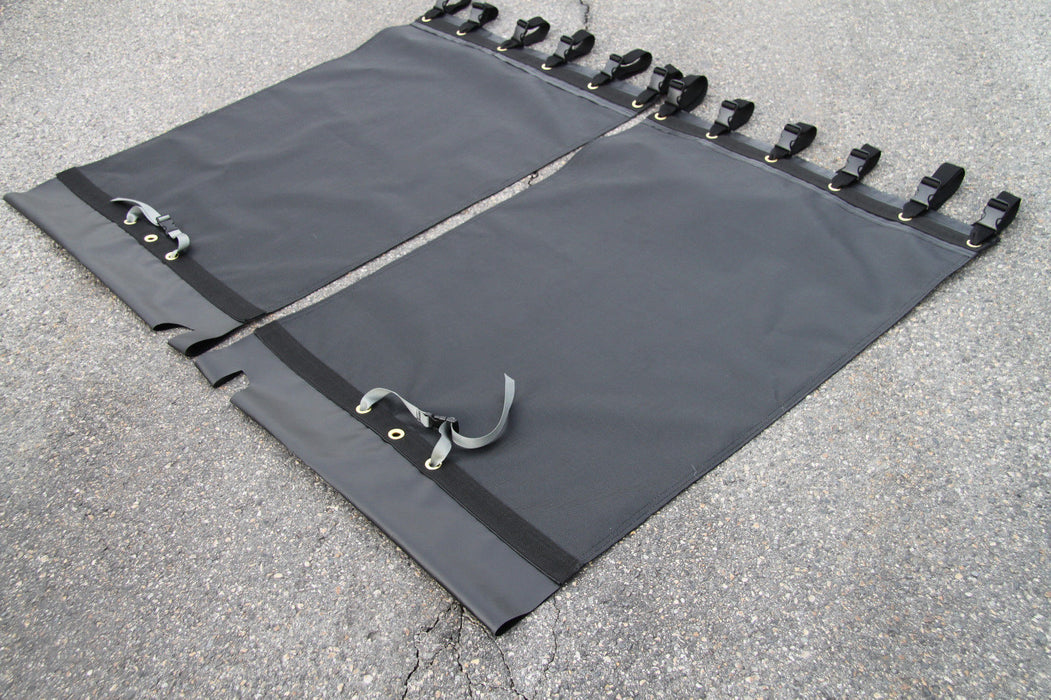 Hobie adventure island trampolines 2014 and older only
Trampoline set for the Hobie single island 2014 and older 
These are best kayak trampolines with years of product testing and input from sailors around the globe. Sailors around the globe use our kayak trampolines from Toyko to Hawaii. 
Now featuring 
  Lifetime Tenara thread as standard sewn with 4 point zig zags. Never worry about thread rotting or breaking with rot proof, fire proof, UV stable Goretex brand thread. Sewn ends feature 4 point zig zags for the variable loading these kayaks trampolines receive. 1 row of 4 point zig zags is as strong as 4 rows of straight stitch. More strength with less holes 
 22 oz Vinyl reinforcement on the front and back of the mesh body. Used on our catamaran trampolines also. Very strong, UV stable and colorfast, Available in a variety of colors. This combination essentially tuff wraps the stressed ends of the trampolines where it counts but still allows the main trampolines body to be made of mesh. 
Stainless Steel #4 marine grade grommets.  With our unique attachment using grommets in the rear, years down the line if you happen to break a plastic buckle the buckle is replaceable on the water with no sewing or tools. Metal buckles can be replaced with a 2 foot cam buckle (or any line)  on the fly if you have a problem years down the line. The fronts now feature 4 stainless grommets to allow the use of our splash guards or create storage systems for fishing to the use in the everglade challenge  
Mesh options 
     1. Black polypropylene basket weave mesh
         High stength, light weight and high UV rating.  This mesh is the same we use on             our larger catamaran trampolines also ed by Catamaran manufactures such as                 Nacra as the OEM mesh.
    2. Pfifertex Plus, Vinyl coated fiberglass mesh
        High stength, more color selection, grippier feel, good UV rating. Same mesh used          By Hobie for their kayak trampolines
We Offer 2 attachment systems for the rear 
     1. YKK Plastic Buckles ( Heavy Duty 1.5 inch USA made plastic Buckles to  quicky                 install your trampoline 6 Per side) Note: Buckles are Replaceable without sewing if           you break one 5 seasons down the road
     2.  Metal Cam Buckles (6 Per side, for the ultimate connection) 
 

Our trampolines also go in closer to main the hull just like OEM, But you can also set them up further away from the center if you like to. Ours are made with the proper cut out and clearance to fit more inboard when compared to other aftermarket manufactures. 

When the wind is up the wind flows through the mesh allowing you head up wind higher and cuts down the downwind push the wind excerpts on your kayak. Especially important if you want to hang out at some point or peddle straight up wind. 

The stiffing rod is made of fiberglass in a low profile oblong shape